TYRE CURING BLADDER-OTR RADIAL TYRE CURING BLADDER
Free Consultation
Contact Person: SISSY CHENG
E-mail: sissycheng@wh-fengfu.com
Tel: 86-15222577966
Wechat: 8615222577966
WhatsApp: 8615222577966
Contact Us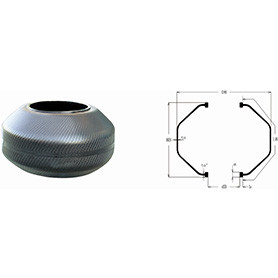 OTR RADIAL TYRE CURING BLADDER
Category

TYRE CURING BLADDER

Main Material

Butyl Rubber

Certificate

ISO9001:2015

Customization

Accept customization

FOB Port

Qingdao, Tianjin

Terms of Payment

L/C, Western Union, T/T, Paypal

Update Time

2019-07-18
see details
INSTRUCTION
Vulcanization is the process of applying pressure to the green tire in a mold in order to give it its final shape, and applying heat energy to stimulate the chemical reaction between the rubber compounds and other materials.
In this process the green tire is automatically transferred onto the lower mold bead seat, a rubber bladder is inserted into the green tire, and the mold closes while the bladder inflates. As the mold closes and is locked the bladder pressure increases so as to make the green tire flow into the mold, taking on the tread pattern and sidewall lettering engraved into the mold. The bladder is filled with a recirculating heat transfer medium, such as steam, hot water, or inert gas. At the end of cure the pressure is bled down, the mold opened, and the tire stripped out of the mold.
The tyre curing bladder (hereinafter referred to as curing bladder) is an essential tool in vulcanization of tyre. The quality of the curing bladder is closely related not only to the production cost but also to the quality of tyre. In order to extend the curing bladder service life and avoid unnecessary losses, please refer to instructions carefully.